Churchyard Information
Finningley churchyard is a little more than 1 acre in size. It has a few headstones that date back to the 1700s but most are from the 19th and first half of the 20th century. The oldest graves are generally those you see as you enter the churchyard with the 20th century graves towards the western end. These include a few War Graves, memorials to airmen who died before the Second World War.
On the south side, on either side of the path beside the rectory gate are a group of headstones in the form of crosses. These mark the graves of some of Finningley's former parish priests. Behind the three crosses are two box tombs, memorials to members of the Harvey Woodhouse family. Gervais Harvey Woodhouse was rector for 46 years during the 19th century, one of a number of Harveys who became rectors of the parish during a period of almost 2 centuries when the Harvey family resided at Finningley Grange.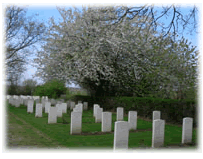 Just beyond the churchyard lies the new graveyard which houses the more recent graves from the second half of the 20th century to the present date. Situated adjacent to the former airfield of RAF Finningley, it also houses the war graves of those airmen who lost their lives in the Second World War and since that time.
Information on the War Graves can be found on the Commonwealth War Graves Commission website at cwgc.org
Both churches will hold current records for Burials, Marriages, and Baptisms, and we may also hold the last completed registers. If you wish to view our more recent records then please contact us. However, many of our registers, particularly the old ones, are lodged with Doncaster Archives. They hold a comprehensive index of the records they look after on our behalf, and are always willing to help should you wish to view them, or gather information.
Their contact details are:
Doncaster Archives, King Edward Road, Balby, Doncaster. DN4 0NA
Tel: 01302 859811.
Their web page also contains more information http://www.doncaster.gov.uk/Leisure_and_Culture/Libraries/Archives_Local_Studies/Doncaster_Archives.asp